Almoda Body Piercings & Jewelry
For over 20 years, Almoda has provided Boston area with quality sterling silver jewelry, body jewelry and body piercing under one roof. Our spacious and clean studio provides our customers with a comfortable and relaxing environment in which to enjoy receiving their new body art.
At Almoda, we take safety and proper sterilization methods seriously. When you are receiving piercing, you can rest assured that every safety measure set by the State of Massachusetts is being followed. All of our needles are brand new, single-use needles that have been professionally sterilized and come packaged in a protective pouch that remains sealed until it is opened in front of you. After its use, each needle is disposed of to ensure that it is never used again.
Almoda offers a clean and comfortable piercing environment for all of our patrons. Our piercing professionals are knowledgeable and experienced in the art of body piercing, and would be more than happy to answer any questions you may have.
To accessorize your piercings, we also offer a large selection of jewelry made from high-quality materials. Our jewelry selection includes surgical steel, titanium, 14kt gold, UV & glow in the dark pieces, and much more.
316L Grade Stainless Steel
Our steel body piercing jewelry is manufactured from the finest quality 316L grade stainless steel polished to a bright finish.
Titanium
The titanium products are anodised and polished to produce a unique pearlised finish. We also have a range of bright finish uncolored titanium products. Bright finished titanium is the most suitable material for initial piercings.
Niobium
A metal from the same group as titanium, niobium displays similar characteristics to titanium when anodised.
Gold
Our extensive range of 9ct gold products is set with Swarovski Crystals and Cubic Zirconia. Upon request, selected designs may be produced in 18ct gold.
UV Plastic
Our UV plastic products are made from a plastic that is safe for use as jewelry.
At Almoda Studio we guarantee that cleanliness and sterility are the uppermost in our concerns. We use sterile packed disposable needles. The body jewelry, clamps and forceps are sterilized in an autoclave, which is an intensive heat unit, all bacteria and harmful organisms are destroyed in this process including hepatitis and the HIV virus. We also use disposable latex gloves at all times, and use sterile forceps to utilize the 'NO TOUCH TECHNIQUE'.
Our body piercers are among some of the most experienced piercers in Greater Boston area. Instrument use, technique, sterilization methods and metals used for the process of piercing were looked at in great detail. Our interests in variations of aftercare and best practices from studio to studio has always amazed us. We have never taken one side or another until we researched the suggested aftercare thoroughly to see the end result.
At Almoda we have always believed that body piercing should be an experience, rather than just a procedure that one is rushed through, and helping the client to make an informed decision is the number one challenge. Whether you are a potential client, a concerned parent or medical professional we will gladly bring you into our studio and answer all your questions.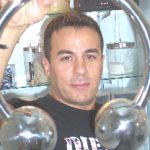 From the first day we opened the studio in 1991, we knew that our approach to body piercing would ensure business success.
George Helo has been in the industry since 1991 when Almoda opened at the Watertown Mall. Since then he has received an education at the Gauntlet Training Institute and has continued his training at The APP (Association of Professional Piercers).

Before you come for your piercing please ensure that you eat a light meal or a sugary snack and drinks. This helps to keep your blood sugar level stable and prevent fainting.
To make an appointment please call:
Almoda Body Piercings & Jewelry
402 Moody St.
Waltham, MA 02453
Call:
781-899-3330
617-291-0169
617-924-3380